The Mac Haik Difference
Mac's Great Deal Your Way Buying Experience

2021 3-Row Jeep Grand Cherokee L in Temple Killeen Waco TX has been one of the most requested and anticipated SUV of recent history. It is with great pleasure we are able to say that the day has finally come and it is now available! Come in today to special order your very own and be one of the first to own this incredible new SUV. The GC itself is already the most awarded SUV in history and this new generation will allow it to garner ever more accolades. The best just got even better. Continue down this page to learn all about this great new SUV and why there is nothing else in the market today that can even consider itself competition!

The eye catching exterior of the 2021 3-Row Jeep Grand Cherokee L in Temple Killeen Waco TX is where this story will start.  As you can see above, this is a whole new look. Not just refreshed, but fully redesigned to keep this vehicle leading in the industry when it comes to the SUV segment. This exterior still shows its Jeep heritage with iconic design cues such as the 7-slotted grille and trapezoidal wheel wells, but thinks out side the box with a more aggressive front end look, stylish wheels, and advanced lighting elements for maximum visibility at night while maintaining a slick look during the day. From every angle this is one beautiful SUV that is sure to catch the attention of your neighbors, friends, and co-workers.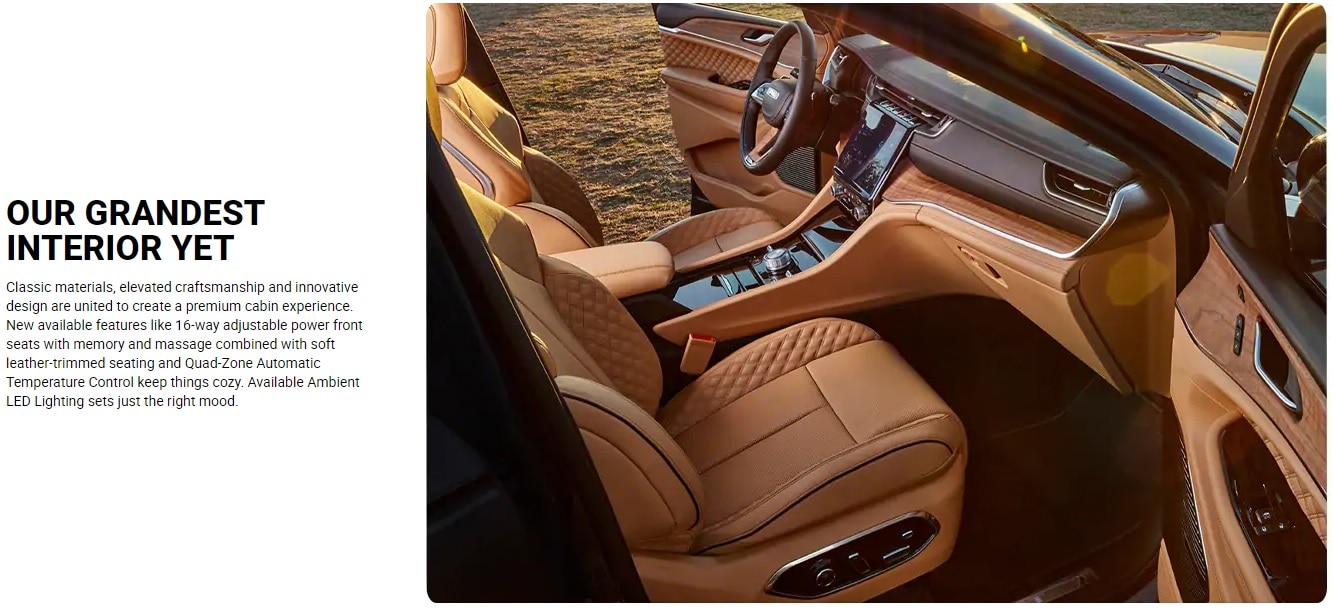 Next up on the 2021 3-Row Jeep Grand Cherokee L in Temple Killeen Waco TX is the interior. The inside of this vehicle is simply in one word, "unbelievable". It is incredible how luxurious the inside is at every price point but the top tier obviously has the best of it all, pictured above. Diamond stitching, new seat design, new trim materials, leather throughout even on the dash, brand new technology in the center console, ambient interior LED lighting accents, and even massaging seats make this one of the most luxurious SUVs on the road today. Jeep has pulled out all the stops with this new SUV and all it will take is one test drive to fall in love with it. The industry is changing, consumers are demanding more, and Jeep has delivered!

We cant discuss the interior of the 2021 3-Row Jeep Grand Cherokee L in Temple Killeen Waco TX without talking about the all-new seating availability! This is the very first year that you will be able to seat up to seven passengers, and the reaction from our consumers couldn't have been any better. This has been one of the most requested features on this SUV for countless years, and the announcement that this was finally coming has been one of the highlights of the entire industry in recent years. Jeep knew though that it couldn't just slap in a bench and call it done, they had to take it to the next level as far as room, versatility, and comfort. That is just what they did too! Unlike most 3-row vehicles, inside this one you can fit full-sized adults and they will fir the first time actually be comfortable! Add to that the high end materials used throughout with many luxury features and you have a 3-row SUV like no other that out performs them all in the comfort department.

2021 3-Row Jeep Grand Cherokee L in Temple Killeen Waco TX is also loaded with features and equipment you are absolutely going to fall in love with, some for the first time ever on a Jeep.  Things like an integrated night vision camera that gives you real time scans over 200 feet away using thermal technology to identify people and animals, greatly minimizing the event of an accident when the sun goes down. An all new Heads-Up-Display (HUD) that projects vehicle information such as the speedometer right onto the windshield o you dont have to move your eyes off the road to see how fast you are going are just two of the many new features available on this incredible new SUV.  There of course are four more features mentioned above to keep the list going but to be honest, to list every feature here would make this page into a novel. For a full comprehensive list of features and benefits, we encourage you to contact us. We can break down the available trim lines for you and let you know what features are standard vs option on each line. Best of all when you contact us, if you are ready to make a decision on one, we can start the process for you to order your very own! You can be one of the first people not just on your street, but in the whole world to own this all-new SUV that is sure to dominate the 3-row segment for years to come.

Contact us today to order your very own

2021 3-Row Jeep Grand Cherokee L in Temple Killeen Waco TX
(254) 314-8419